2014 Wilmslow Half Marathon
The 30th Wilmslow Half Marathon, sponsored by Waters Corporation, which set off from Wilmslow Rugby Club at 10.30am. While elite runners compete for championship honours and cash prizes (prize money totals £11,000) the race itself raises in excess of …
Read more on Wilmslow.co.uk


(PRWEB UK) 25 January 2014
Vygon (UK) Ltd will be supporting two new charities through its charity committee in 2014 – the Timmy Mason Trust and Teckels Animal Sanctuaries. This is in addition to Macmillan Cancer Support and Wiltshire Air Ambulance which it has been supporting since 2014.
Vygon UK has a long history of supporting charitable organisations, and with the move to its new Swindon HQ in 2014 it decided to formalise the process so the Vygon Helping Others charity committee was created. Their goal is to get employees helping others through traditional fundraising activity and also through doing charitable work themselves.
Initially they concentrated on a few events that have since grown, including taking part in the Worlds Biggest Coffee Morning run by Macmillan, and Wiltshire Air Ambulances Its a Knockout competition. As employees have become more active they also have taken part in local Santa runs, sponsored skydives, half marathons, triathlons, and two people have even climbed mountains to raise money.
Vygon supports this activity through match-funding, and recently has added time and talents in order to reward people who help charities in person rather than through fundraising.
In 2014 it was decided that two further local charities would be added, and staff were asked to nominate then vote on their preferred choices. The winners were the Timmy Mason Trust and Teckels Animal Sanctuaries.
The Timmy Mason Trust helps support children with cancer and Leukemia with morale-boosting gifts, treatment travel costs, and supporting overseas treatment.
Teckels Animal Sanctuaries is a small registered charity totally dedicated to ending cruelty to animals in the UK and their sole focus is to provide a safe and loving sanctuary for dogs and cats who find themselves in need of help.
Louise Cannon, Chair of the Vygon Helping Others charity committee said, Its great to see that our charity work has become so well established that we can bring in new recipients. Were now busy planning our activities for 2014 and were looking forward to a bumper year.
Alla Cimotisa, Vygons Business Responsibility Coordinator said, Given the current economic climate were pleased that the committee is doing really well and able to expand support to include more worthy causes.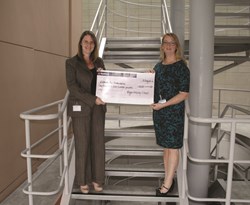 Recommended: